Uría Menéndez named "Spain Tax Firm of the Year"
International Tax Review has awarded the firm the European Private Equity Tax Deal of the Year and Consumer Products Tax Deal of the Year awards and, together with our Best Friends, the European Tax Disputes Firm of the Year award
May 27, 2016
---
Last night the prestigious British publication International Tax Review named Uría Menéndez Spain Tax Firm of the Year in its eleventh annual edition of the European Tax Awards. It is the third time in the last five years that the firm has received this honour. Uría Menéndez competed against eight other shortlisted Spanish and international law firms.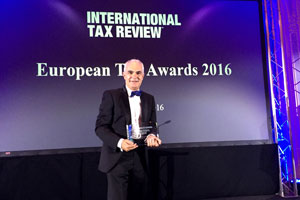 Uría Menéndez was also awarded the European Private Equity Tax Deal of the Year award for Proyecto Lion, regarding Lone Star's acquisition of the real estate business of Kutxabank (Neinor Group), and Consumer Products Tax Deal of the Year award for advising Coca-Cola Iberian Partners in the merger of its European bottlers.
For another year, the Best Friends Tax Network to which Uría Menéndez belongs, received the European Tax Disputes firm of the Year award.
The awards ceremony was held in London and brought together representatives from numerous law firms, accounting firms and companies from across Europe. Jesús López Tello, a tax partner in the firm, said "The firm as a whole and the tax team in particular have had a very intense year, and it is an honour and a privilege that this effort and dedication are recognised by the many awards given by what is probably the leading publication in the profession. The renewed recognition of the Best Friends Tax Network is further acknowledgement and support for the working model we share with our best friend firms in the main European jurisdictions".
International Tax Review is one of the most widely read and respected tax publications. For its annual awards, the editorial team takes into special consideration the size of the firm's tax team as well as the complexity and innovation involved in the transactions submitted.