Uría Menéndez, named Best Law Firm of the Year in the second edition of the Expansión Jurídico awards
The Firm came away with a total of five awards.
June 16, 2017
---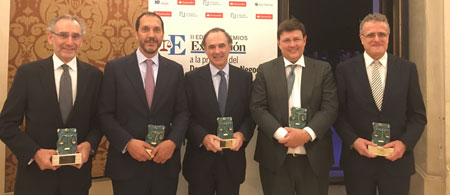 Uría Menéndez last night received the award of Best Law Firm of the Year in the second edition of the awards granted for excellence in commercial law, held by Expansión Jurídico, one of the most prestigious legal publications in Spain. The Firm's other awards included Best Law Firm in Corporate/M&A, Best Law Firm in Banking and Finance and Best Law Firm in Latin America. The Firm also took the award for Best Transaction of the Year for its advice on the merger between Gamesa and Siemens. With five of the twelve awards, Uría Menéndez was the clear winner on the night.
The awards ceremony, organised by Expansión together with the IE Law School, took place at the Teatro Real in Madrid in the presence of more than 200 guests, with the notable attendance of Carmen Sánchez-Cortés, Secretary of the Ministry of Justice.
The panel of judges – made up of recognised experts in the legal sector from prestigious firms and highly regarded companies and institutions – assessed the development of the nominated firms over the course of 2016, the matters managed by each of them and their complexity.