Uría Menéndez awarded Deal of the Year by China Business Law Journal
The purchase of 51% of Noatum Port Holdings by Cosco has received recognition from this publication due to its innovative nature
February 15, 2018
---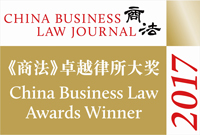 The publication China Business Law Journal has named the purchase of a 51% stake in Noatum Port Holdings, the largest Spanish port operator, by the Chinese company Cosco as Deal of the Year for 2017 in the category of Overseas Deals due to the innovative nature of the transaction.
Uría Menéndez advised on the Spanish law aspects of the transaction between TPIH Iberia ("Turia"), a company indirectly owned by institutional investors advised by J.P. Morgan Global Alternatives (67%), APG Asset Management N.V. (33%), and COSCO Shipping Ports Limited for the purchase of shares representing 51% of the share capital of Noatum Port Holdings in order to establish a joint venture between Turia and COSCO for the joint development and management of the company.
The price initially agreed for the 51% stake in NPH amounted to approximately 203 million euros.
The team of lawyers who were involved in this deal was formed by partners Teresa Paz-Ares, Carlos López Quiroga, Rafael Núñez-Lagos, Guillermo Canalejo and Sergio Ponce, all from the Madrid office; Francisco Martínez Boluda, from the office in Beijing, and Elizabeth Torrecillas, in Valencia, in close collaboration with our "best friend" firm Slaughter and May on aspects of English and Hong Kong law.