Uría Menéndez named "Regional firm of the year - Europe" in the Global Competition Review Awards
GCR, the world's main competition law publication, gives the firm this European recognition for the second time.
April 12, 2018
---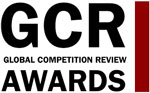 Uría Menéndez was named "Regional firm of the year - Europe" by the prestigious publication Global Competition Review (GCR) in the eighth annual edition of the GCR Awards which took place last night. The firm competed for the award with two reputed European firms. It is the second time it has received this recognition, after having already won the award in 2014.
The award ceremony was held in Washington D.C. in an event attended by competition law experts from a wide array of law firms of US and the rest of the world and representatives of competition authorities worldwide. Partners Antonio Guerra and Patricia Vidal received the award on behalf of the firm.
As stated by Jaime Folguera, the partner heading the  Uría Menéndez Competition practice: "It is a great honour for all the members of the European Union and Competition Law Practice Group to receive again this award in recognition of the team's successful work in a wide number of economic sectors, and particularly in those related to the digital economy".
Global Competition Review is one of the most important and highly regarded publications on competition law. When deciding on the awards, the editorial team selects those deals, teams and individuals which in their opinion have influenced the antitrust landscape, to then give the opportunity to its subscribers to vote on the winning candidates.
Uría Menéndez's European Union and Competition Law Practice Area consists of five partners, three counsel and another 15 lawyers in the Madrid, Brussels, Barcelona and Lisbon offices. It provides advice on all areas of domestic and EU competition law as well as and on other areas of European Union law.