Uría Menéndez, best law firm for M&A in Spain
Mergermarket granted their European M&A awards last night in London
December 5, 2019
---
Last night, Uría Menéndez received the award for Spain M&A Legal Advisor of the Year from Mergermarket. This award recognises the firm's work in M&A transactions throughout 2019.
This latest edition of the Mergermarket Europe M&A Awards has identified the best financial advisors and law firms in 22 jurisdictions based on the overall value and the number of deals in which they have been involved this year.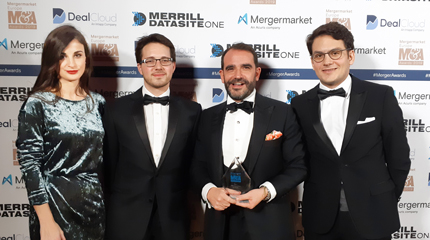 The firms' submissions were considered by a panel formed by Mergermarket editors and M&A experts, who analysed the strategic nature of the transactions, their complexity, the financial requirements to be met and the creativity of the solutions proposed.
The ceremony was held in London and was attended by Juan Carlos Machuca, resident partner of Uría Menéndez's London office, and Lidia Martínez, Eduard Vila and Alfonso Bernar, lawyers of the firm.
Being given this award consolidates Uría Menéndez's leadership in M&A and serves as an acknowledgement of the excellent work of the firm's M&A team, which, with more than 30 partners and 100 lawyers, has advised on some of the most complex deals that have taken place in Spain in the last 12 months.