Uría Menéndez incorporates Juan Antonio Loste as partner of the Barcelona office
The incorporation of Juan Antonio Loste and his team, specialising in environmental law, will strengthen this area of practice in Uría Menéndez
March 3, 2008
---
Juan Antonio Loste, one of the most renowned lawyers in Spain in the area of environmental law joins Uría Menéndez's Barcelona office. His incorporation is an important move by the firm, designed for a department that has been gaining importance for Spanish companies.
Juan Antonio joins Uría Menéndez from Schiller Abogados together with his team Jaime Calvo, Ingrid Barruz and Víctor Ruiz.
According to leading legal directories, such as Chambers & Partners, which carries out annual detailed studies of the Spanish legal market, Juan Antonio is among the top three lawyers in Spain in this practice area, as is Carlos de Miguel, another partner of Uría Menéndez.
Juan Antonio has been a member of the Ilustre Colegio de Abogados de Barcelona since 1989 and advises companies from different sectors on environmental issues. He has also been actively involved in important administrative and judicial proceedings as well as in developing draft bills for various public authorities.
There is an increasing demand from companies for legal advice on issues pertaining to the environment and renewable energies. This is especially true in Cataluña. For that reason, Juan Antonio's incorporation naturally strengthens these areas and, at the same time, strengthens the eminent position of the firm in Barcelona. With his incorporation, Uría Menéndez becomes the leading provider of this kind of legal advice in Cataluña and, furthermore, strengthens the existing prestigious team. In its renewable energies annual ranking, the publication Ij Online ranked Uría Menéndez fourth in the world.
Uría Menéndez has had a presence in Barcelona for over twenty years and has been involved in some of the most significant transactions in Cataluña. The office currently has 100 lawyers addressing all areas of corporate law.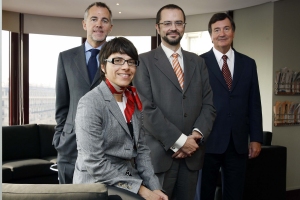 From left to right: Juan Antonio Loste, Ariadna Cambronero (second head
of Uria Menéndez in Barcelona office), Carlos de Miguel and
Charles Coward (head of Uria Menéndez in Barcelona office).
Uría Menéndez has offices in Spain (Madrid, Barcelona, Valencia and Bilbao), Portugal (Lisbon and Porto), the United Kingdom (London), Belgium (Brussels), Poland (Warsaw), the United States (New York), Brazil (São Paulo), Chile (Santiago de Chile), Argentina (Buenos Aires), Mexico (Mexico D.C.), Peru (Lima).