Uría Menéndez, best law firm of the year in Spain
The British legal directory Chambers and Partners awarded Uría Menéndez the award of "Best Spanish Firm of the Year" in its first edition of its Europe Awards.

The European edition of Chambers and Partners once again ranks Uría Menéndez as the leader of the Spanish market and has awarded it first place positions in 20 areas of practice.
May 9, 2008
---
The British legal directory Chambers and Partners awarded Uría Menéndez the distinction of Best Spanish Law Firm of the Year. The awards ceremony for the Chambers Europe Awards for Excellence took place in the Hotel Arts Barcelona and honoured the most prestigious law firms in Europe.
Managing partners of the firm José María Segovia and Luis de Carlos expressed their satisfaction both for the recognition from the prestigious legal directory and for receiving it in the city of Barcelona. They paid tribute to Rodrigo Uría Meruéndano, the Chairman of Uría Menéndez who passed away last year "who had the dream of creating a great law firm and made that dream a reality." José María Segovia stated that "it is an honour for Uría Menéndez -as I believe it should be for the rest of the Spanish legal community- for an independent Spanish firm to achieve this award."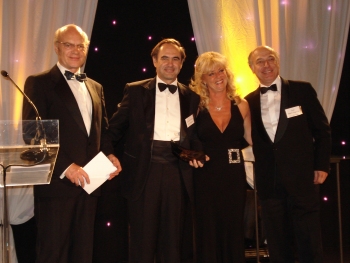 In Barcelona, the British publication also released the second edition of its Europe Guide directory, which analyses Europe's legal market and which placed Uría Menéndez in the top position of the Spanish market in 20 areas of practice. Among others, Uría Menéndez ranked first in Banking and Finance, Capital Markets, M&A, Competition, Employment, Public Law, Dispute Resolution, Real Estate, Private Equity, Telecommunications, Tax, Energy & Natural Resources, Environment, Restructuring and Insolvency, Shipping, Intellectual Property, Corporate Crime and Financial Services: Regulatory.
Chambers and Partners is one of the most prestigious legal directories and is one of the pioneers in the analysis of the international legal market. In addition to its global law firm directory analysing the international deals in which law firms are involved, last year Chambers and Partners launched a directory for Europe which carries out in-depth analyses of the European legal market, both its internal and international activities.
Uría Menéndez has offices in Spain (Madrid, Barcelona, Valencia and Bilbao), Portugal (Lisbon and Porto), the United Kingdom  (London), Belgium (Brussels), Poland (Warsaw), the United States (New York City), Brazil (São Paulo), Chile (Santiago de Chile), Argentina (Buenos Aires), Mexico (Mexico D.C.) and Peru (Lima).