Uría Menéndez, law firm of the year in Spain according to IFLR
The firm obtains this award for the second consecutive year.
March 23, 2009
---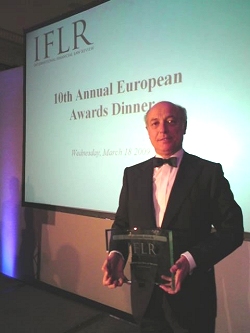 This is the fifth time the prestigious British publication "International Financial Law Review" (IFLR), published by Euromoney, awards a prize to Uría Menéndez. The firm has received the "Law Firm of the Year: Spain" award in the 2009 edition of the IFLR European Awards for the second year running.
The awards ceremony took place on 18 March in London with numerous representatives of law firms and multinationals attending. José María Segovia, managing partner of Uría Menéndez, received the award and stated: "it is an honour to receive this award that not only recognises Uría Menéndez internationally but also symbolises the confidence that our clients have placed in us to continue working by their side in moments of uncertainty like the ones we are currently undergoing."
The IFLR European Awards include three categories: "Deals of the Year," awarded to law firms that advised in the main international transactions of the year; "Teams of the Year," for the most outstanding practice groups based on their involvement in the most relevant deals; and the "National Team" awards, for the best law firms from among several different countries.
The team of journalists of the publication  conduct the research as well as consulting private practice lawyers, in-house counsel and financing specialists in investment banks.
Euromoney publishes a yearly directory analysing several practice areas: Capital Markets, Restructuring and Insolvency, Project Finance, Banking and Mergers & Acquitions (IFLR 1000). In Spain, Uría Menéndez was the leading firm according to the last edition, achieving more first positions than any other firm. The firm was mentioned in all the practice areas analysed.