Uría Menéndez named "Tax Firm of the Year in Spain"
The firm receives this award for the second consecutive year.
May 16, 2013
---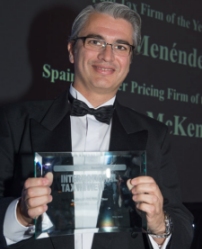 Uría Menéndez has been named "Tax Firm of the Year in Spain" for a second consecutive year by the prestigious British publication International Tax Review in its eighth annual edition of the European Tax Awards. Uría Menéndez competed for the award with ten other Spanish and international firms.
Under the "Best Friends Tax Network" category, the publication also named Uría Menéndez "European Tax Disputes Firm of the Year" together with its Best Friends.
The ceremony took place in London last night and was attended by representatives from a wide range of companies, law and accounting firms from across Europe. Rafael Fuster Tozer, as head of the firm's Tax Practice Area said: "It is an honor for us to receive this award for a second consecutive year. It represents an important acknowledgement of the sound and successful work of the Uría Menéndez Tax Practice Area and especially of the trust that our clients have placed in us in recent years. As members of the "Best Friends Tax Network", we are also very proud of this award which recognizes the successful model we have developed".
International Tax Review is one of Britain's most widely read and respected tax publications. For its annual awards, the editorial team takes into special consideration the size of the firm's tax team as well as the complexity and innovation of the transaction submitted.