Uría Menéndez, "Regional Firm of the Year - Europe" in Competition
GCR, one of the most renowned publications worldwide on competition law grants this European recognition for the first time.
March 26, 2014
---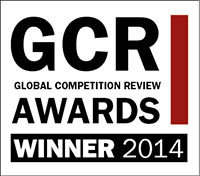 Yesterday, Uría Menéndez received the award for "Regional Firm of the Year - Europe" in Competition from the prestigious British publication Global Competition Review in the fourth edition of the GCR Awards. It is the first time the magazine has given regional awards for Europe, the Americas and Asia-Pacific, the Middle East & Africa, thus making Uría Menéndez the first recipient of this distinction for Europe. Uría Menéndez was the only Iberian law firm to be shortlisted. The firm competed with five other prestigious law firms from Germany, France and Austria.  
The awards ceremony took place last night in Washington D.C., at a gala attended by many competition law experts from well-known law firms, in-house counsels and representatives from competition authorities worldwide.
Jaime Folguera, the partner responsible for this area stated: "It is a great honor for all the members of the EU and Competition Law Group to receive this recognition of the effort and work performed by our team and by Uría Menéndez throughout Europe."
Global Competition Review is one of the most widely read and reputed British publications dedicated to competition law. The award process is the following: a team of GCR journalists consider the nominations and announce the finalists. The readers then decide the winners by online voting.
The EU and Competition Law Group of Uría Menéndez is composed of five partners and over fifteen associates based in Madrid, Brussels, Barcelona and Lisbon. The legal services provided by the EU and Competition Law Group include all aspects of EU, Spanish and Portuguese competition law. It also encompasses diverse areas of EU law.