Uría Menéndez consolidates its project in Latin America by incorporating two Peruvian firms
Estudio Ferrero Abogados and Delmar Ugarte merge to join Philippi, Prietocarrizosa & Uria (PPU)
January 28, 2016
---
The Latin American law firm Philippi, Prietocarrizosa & Uria (PPU), in which Uría Menéndez holds a significant share, has taken another step in its expansion. The firm is now opening an office in Lima (Peru) by incorporating Ferrero Abogados and Delmar Ugarte, two law firms of recognised prestige in the Peruvian market. This means that from 1 January 2016, the firm will have 44 partners and 319 lawyers and its own offices in Bogota and Barranquilla (Colombia), Santiago (Chile) and Lima (Peru), which confirms its status as one of the leading law firms in Latin America.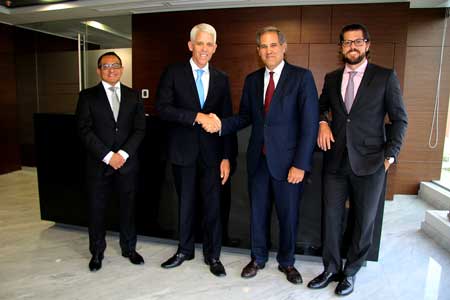 Ferrero Abogados is a highly experienced with a proved track-record of over 70 years. The firm established its institutionalisation under the leadership of the third generation of lawyers who opted for an international strategy in this new phase. The firm offers comprehensive services in all practice areas with an established reputation in corporate, M&A, tax and labour law.
Delmar Ugarte is made up of a young but experienced group of lawyers who, having practiced law at prestigious law firms, decided to set up a new law firm based on high professional standards, first-rate customer service and innovation. This strategy has made them into one of the leading law firms in infrastructure development and financing. The firm also has one of the few Asian areas at regional level.
Following PPU's first successful year – in which it experienced a growth of 15% – the opening of its office in Peru consolidates its expansion project. Therefore, the firm can now cater for the growing demand for comprehensive professional services in the region sought by multinational, European, Asian and American companies. The gradual integration of the economies of the Pacific Alliance (Chile, Colombia, Peru and Mexico) has made the region one of the most attractive places for investment.
Luis de Carlos, managing partner of Uría Menéndez, believes that "integrating these two leading firms in the Peruvian market confirms that Philippi, Prietocarrizosa & Uría is on the right path following its incorporation a year ago. The firm has been able to consolidate its position  as a leading firm in the Pacific Alliance region and become one of the main firms in Latin America."
Juan Francisco Gutierrez and Martin Acero, co-chairpersons of Philippi, Prietocarrizosa & Uria, believe that "it is very satisfactory to be able to expand into the Peruvian market after a successful year. The response of our customers – many of which are "multilatinas" – and their growing needs represented an important incentive to offer services in Peru. We now have Ferrero Abogados and Delmar Ugarte to continue providing services of the highest quality to our customers."
PPU is the first major Ibero-American law firm. The firm is the result of the first merger in Latin America of two leading law firms in their respective jurisdictions: Philippi, Yrarrázaval, Pulido & Brunner in Chile and Prietocarrizosa in Colombia. The prestigious Iberian law firm Uría Menéndez also has a significant share in the law firm (www.ppulegal.com).