Uría Menéndez-PPU and Luis de Carlos recognized at The Lawyer European Awards 2016
Uría Menéndez-PPU received the award for Global Strategic Initiative of the Year and Luis de Carlos was named European Managing Partner of the Year
March 10, 2016
---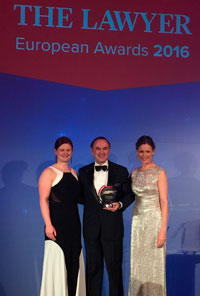 Uría Menéndez was one of the most successful law firms at The Lawyer European Awards 2016 on Wednesday, receiving two awards: Global Strategic Initiative of the Year for its Latin America project with PPU, and European Managing Partner of the Year, which was presented to Luis de Carlos.
The jury's decision to recognize Uría Menéndez-PPU for its strategy in Latin America follows the consolidation of Philippi, Prietocarrizosa, Ferrero, DU & Uría (PPU) as the first major Latin American firm in the Pacific Alliance countries. The project faced stiff competition from those of leading law firms from all over Europe.
Collecting the award, Luis de Carlos said, "After more than 17 years in Latin America, we have embarked on the exciting project that is PPU; the first major Ibero-American firm. Together with our Chilean, Colombian and Peruvian colleagues, we can respond to the growing demand from "multilatinas", European, Asian and American companies for comprehensive professional services in the region."
In a personal capacity, Luis de Carlos was named European Managing Partner of the Year both for his active role in leading some of the most important deals in 2015 (mainly in capital markets) and for his leadership of Uría Menéndez, which has seen the firm achieve several important milestones in the past year. Under his management, and thanks to the hard work of everyone at the firm, in 2015 Uría Menéndez achieved a record turnover and strengthened its commitment to Latin America through PPU.