Uría Menéndez, most innovative Law Firm in Europe in General Legal Expertise according to Financial Times
The prestigious publication ranks the firm as the most innovative Spanish law firm.
October 6, 2016
---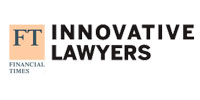 Uría Menéndez is named the most innovative law firm in Europe in the category of General Legal Expertise by the FT Innovative Lawyers Awards 2016, for creating an alternative financing instrument to solve regulatory and tax problems caused by traditional structures used by some Latin-American multi-national groups. The transaction, in which Uría Menéndez advised Nomura and Bank of America Merrill Lynch in a bond issuance of the holder of a concession for the construction, operation and maintenance of the Carrasco International Airport in Montevideo, Uruguay, created the possibility of using Spain as the jurisdiction to issue senior bonds instead of other traditional issuing jurisdictions such as Luxembourg. The Uría Menéndez team was led by partners Jesús López Tello and Jaime Pereda, the latter from the New York office.
With this award, Uría Menéndez becomes the most innovative Spanish law firm in Europe in the Financial Times ranking.
The Financial Times Innovative Lawyers 2016 report also highlights the firm's work in the areas of Innovation in speed and process and Innovation in M&A.
According to José María Segovia, Senior Partner of the firm, "Uría Menéndez has always valued innovation as one of the pillars of our profession, and therefore, we feel especially proud to receive this award. Only through innovation can we exceed and offer the best legal service to our clients".
The FT Innovative Lawyers Awards are distinguished in the legal sector, because of their reputation and media coverage. This year, a total of 643 submissions were submitted by firms from all over Europe. RSG Consulting, the consulting firm that analyses the submissions, interviewed hundreds of different clients referred to by the competing European firms.