Uría Menéndez, "London office of the year"
The British Legal Awards 2008 held by the prestigious UK publication Legal Week
November 28, 2008
---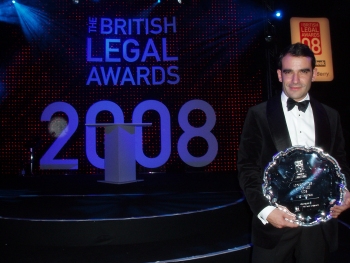 The Uría Menéndez London office has been named the London office of the year 2008 by the prestigious UK publication Legal Week. This is in recognition of the varied and important development work undertaken by Uría Menéndez in the English capital and the involvement of the London office in various notable Spanish business operations in the United Kingdom.
The ceremony took place yesterday with numerous representatives from the legal market in attendance. Juan Carlos Machuca, the resident partner of the London office, collected the award and said 'it is a great pleasure for us to know that the work that we have been carrying out with some of the largest Spanish companies on its international expansion is recognised. For that reason, it is with great pride, not only for the associates within the London office but on behalf of everyone within the firm, that we accept this award for the effort and leadership of Uría Menéndez as an independent firm with an international outlook. This represents the culmination of our work since we opened here in London sixteen years ago'.
The British Legal Awards sets out to celebrate the firms, teams and individuals whose work over the last 12-18 months could be considered as outstanding  by a panel of judges made up of representatives from British companies and other multinationals.
Uría Menéndez was the first Spanish law firm with a London based office. Since its opening in the early nineties the office has been present in the English capital acting not only as a link between the rest of its offices but has also played a key role in the international work carried out by the firm.  
Uría Menéndez has offices in various parts of Spain (Madrid, Barcelona, Valencia and Bilbao), in Portugal (Lisbon y Oporto), Great Britain (London), Belgium (Brussels), Poland (Warsaw), the United States of America (New York), Brasil (São Paulo), Chile (Santiago de Chile), Argentina (Buenos Aires), Mexico (México D.F.) and Peru (Lima).