Uría Menéndez's Real Estate Practice Group is the best law firm in Spain according to the British publication Euromoney
The Real Estate Practice Group also came second in Western Europe and Portugal.
October 16, 2009
---
Uría Menéndez's Real Estate Practice Group named best Law Firm in Spain in the 2009 edition of the Euromoney Real Estate Awards. The firm also came second in Western Europe and Portugal.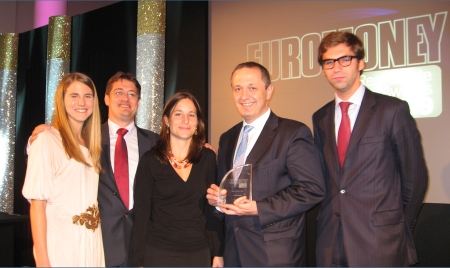 The award ceremony was held in London yesterday and brought a large number of law firms, investors, developers and, in general, real estate institutions together. Fernando Pérez de la Sota and Juan Antonio Pérez Rivarés, Real Estate partners at Uría Menéndez, collected the award and stated "it is an honour for the firm and in particular for the Real Estate Practice Group to receive these awards as a representation of our work for clients who, thanks to their confidence, have enabled us to obtain these recognitions."
The Euromoney Real Estate Awards are based on a survey sent, among others, to developers, legal advisors, financial institutions and investors. It asks participants to select the best firms providing various types of real estate products and services over the last twelve months.
Uria Menendez's Real Estate Practice Group has 8 partners and over 50 lawyers in Madrid, Barcelona, Valencia, Bilbao, Lisbon, London and Warsaw. Covering all matters related to promotion, investment, finance and operation of buildings, it stands out for its involvement in particularly complex and innovative transactions.
The international scope of this practice area is also increasing, regularly advising on Spanish and Portuguese aspects of deals subject to foreign law. Its extensive network of offices and relationships with leading international firms, enables the firm to accompany clients in their investments outside the Iberian Peninsula.