Uría Menéndez - Proença de Carvalho: Law Firm of the Year in Portugal
The prestigious British publication International Financial Law Review (IFLR) distinguishes the firm in Portugal for the first time
April 11, 2013
---
Uría Menéndez - Proença de Carvalho has been named Portuguese law firm of the year in the 2013 edition of the IFLR European Awards. Uría Menéndez has been recognized by the publication seven times, but this is the first time that Uría Menéndez -Proença de Carvalho wins this award, which recognizes the firm's achievements this year and proves that it is reinforcing its position as an Iberian Law Firm of reference.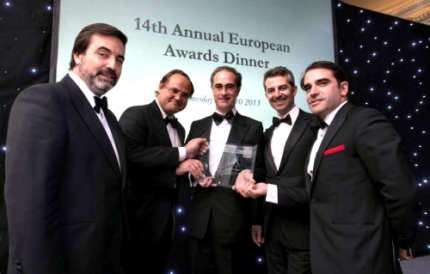 The awards ceremony took place on 10 April in London and was attended by representatives of numerous law firms and multinationals. Duarte Garin, managing partner of Uría Menéndez - Proença de Carvalho, said when he collected the award: "This award, which only three other law firms in Portugal have received in eight years, recognizes not only the great year we have had, but also the firm´s track record in over ten years in Portugal, and that fills us with pride".
With a permanent presence in Portugal since 1998, Uría Menéndez, which operates in Portugal as Uría Menéndez - Proença de Carvalho, has been involved in the most important transactions in Portugal. It was also the first foreign law firm allowed to establish and practice law in Portugal.
There are over 80 lawyers in the Lisbon and Porto offices focused on the areas of Corporate, M&A, Finance, Banking, Capital Markets, Real Estate, Tax, Labour, Competition, New Technologies, Public Law and Dispute Resolution (Arbitration and Litigation).